Foursquare, I have written some posts on you guys (How foursquare lost track and went for that "platform" thing) – it was a while ago, but in my opinion, still holds true. You know that you have done quite some things wrong – you tried to become a platform instead of just being a great tool, you took out the gamification elements – just to have them return (mayorships) and some other stuff.
Growing up is hard – especially when you feel endangered by everything and everyone around you. That's how it is for startup-ups like you. You fly or die. But after some right choices you had done lately, there's again one that screams "Why? Foursquare, why???".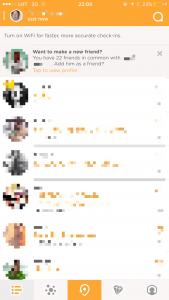 This comes down to safety – plain and simple. You have always emphasized that our checkins are private and we can always choose with who and how we share our check-ins. This is kind of unnecessary – suggesting random people to friend lists. I mean, of course, there are a lot of people that know the same people I do, but that 30 mutual friends don't mean instant trust towards those people just because they are friends of my friends. Some people have smaller friend lists, some have larger – me, I have one that's wider, but that means that I don't post everyplace I visit. Some people have smaller communities and they act more freely. Now you're just assuming that we're ok with sharing our checkins with random people we haven't even met. Ever. Don't do this.
Think about younger audiences as well – the ones who don't think too much, but just act. Teenagers will use this feature as soon as they see a pretty face of opposite sex (or their own sex – I don't judge).
While we're at it – some better ideas for implementation
Event chat rooms – let us connect at places with people who are there – even the ones we don't know yet. This would work as better option than Facebook rooms or hashtag for event. Think conferences, parties, festivals, etc.
Temporary real-time sharing – just like Apple's Find my Friends, but for groups and friends who aren't exclusively iPhone users. Very useful on night out in oldtown or festival.
Rich check-in history, background tracking – you have seen the Moves app that was acquired by facebook some time ago, haven't you? They have done some very simple things regarding use of user's location and activities. In some sense, it has taken away from foursquare (swarm0, because I can always check there when and for how long I have been somewhere.
Good luck guys!